Waarom je van traditionele chat naar web messaging wilt
Frontline Solutions
Iedereen kent inmiddels wel de chat die veel websites aanbieden. Er popt een chatvenster op en je typt de vraag die je hebt. Vervolgens beantwoordt de (virtuele) medewerker deze. In dit artikel vertellen we je waarom je die traditionele chat wilt verruilen voor web messaging.
Synchrone contactafhandeling
Een chat start vanaf het moment dat je klant een vraag stelt en stopt wanneer de klant of de medewerker de chat afsluit. Tijdens het chatgesprek is eerdere gesprekshistorie van vorige chats niet zichtbaar. Zo is iedere chat dus weer een nieuwe conversatie. De verwachting van je klant bij een chatgesprek? Dat het gesprek zonder wachttijd wordt beantwoord. Dit noemen we een synchrone contactafhandeling.
Asynchroon contact
Naast de traditionele chat maken veel bedrijven tegenwoordig ook gebruik van andere digitale kanalen zoals WhatsApp en Facebook messenger. Eén van de belangrijkste kenmerken van deze kanalen is dat er sprake is van een doorlopende conversatie. Er is geen echte start en einde. Iedere keer dat je wat toevoegt aan de conversatie, zie je ook de voorgaande berichten. Verder lopen de contactmomenten tussen vraag en antwoord vaak wat verder uit elkaar. Dit noemen we dan ook asynchroon contact.
Web messaging is een samenvoeging van deze 2 technieken.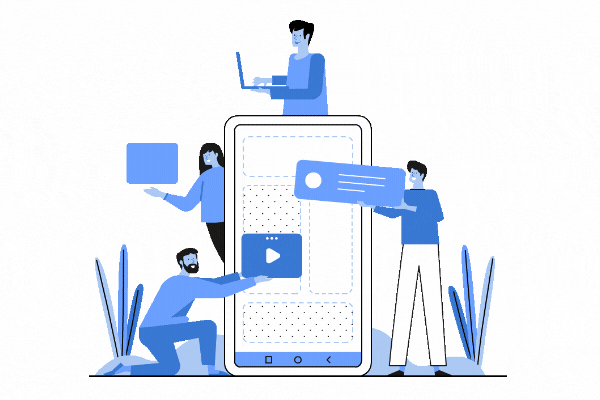 Web messaging
Met web messaging start je een privé conversatie op een website of app en deze kan je op ieder moment voortzetten op een ander device. Je start bijvoorbeeld je contact via de website en vervolgt deze later op je smartphone. Zowel de klant als de medewerker kan zelf het moment van reageren bepalen en je ziet alle voorgaande berichten in je chatvenster.
Het is een veilige en open communicatiemethode waarmee je niet afhankelijk bent van de gebruikersvoorwaarden van een messaging aanbieder zoals Facebook en WhatsApp. Je hebt dus zelf de controle over je communicatiekanaal!
Web messaging kan dus zowel je traditionele chat als andere kanalen zoals Facebook, WhatsApp en e-mail vervangen en samenvoegen in één beheersbaar kanaal. De klantervaring leert dat het de afhandeltijd verlaagt en de klanttevredenheid verhoogt.
Kortom, met web messaging kan je contact onderhouden met je klant op ieder moment, op ieder device en ben je niet langer afhankelijk van de voorwaarden van commerciële aanbieders als WhatsApp en Facebook.
In gesprek om je traditionele chat te vervangen voor web messaging? Wij helpen je graag verder.