Movenience is ready for the future with Genesys Cloud CX
Frontline Solutions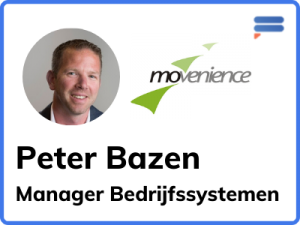 After a number of years, your organization reaches a point where you need to do something with your IT matters. Familiar? This was also the case with Movenience. The innovative company, specialized in mobility-related payment services, chose to use cloud-based applications, including for their customer service, with the choice falling on Genesys Cloud. Peter Bazen, Manager of Business Systems at Movenience, talks about the benefits.
Before
Previously, the customer service used Genesys PureConnect, an application that runs on a server located on site. Peter explains, "The biggest disadvantage of that is that you are dependent on a server, and a version update needs to take place regularly, which also brings with it the necessary time and costs. For the employees, the disadvantage was that PureConnect was workstation-bound, meaning a fixed device, and therefore no possibility of working from home."
The new situation
Every few years, every company faces the same choice: what to do with their IT environment? The same was true for Movenience. Peter says, "We had been using Genesys PureConnect for our customer contact since 2009, so we had to do something. A cloud solution is a logical choice these days." The choice fell on Genesys Cloud.
The biggest difference for our organization is that remote working is now possible.
Cloud advantages
As the name suggests, Genesys Cloud is a cloud-based contact center application. It is always equipped with the latest updates and features. Peter explains, "The biggest difference for us was that remote working is now possible. This was very useful given the situation we've been in recently. Regardless of which browser the employee uses, they can start working immediately. The login process is much faster, and the user experience is much better than before."
Peter continues, "We also work with our own company system that is linked to Genesys Cloud. As soon as the customer's phone number is known, the customer card appears on the screen. This way, you immediately have access to the customer's information, and there's no need to copy and paste information. It's ideal for helping customers to satisfaction."
Adjustments
Like all changes in life, there were certainly things that Movenience employees had to get used to. Peter explains, "Although the user experience is good, employees had to get used to the fact that the application runs from a browser. You often have different tabs open. Also, the fact that pop-ups now appear is different from before. Furthermore, the signaling of customers on hold works differently than with PureConnect. We are currently in talks with Frontline Solutions to see if we can improve this."
Developments
Currently, you still have to pay toll for the Westerschelde Tunnel. There are plans to make it toll-free. Such a decision has a considerable impact on Movenience, causing some uncertainty. Peter says, "As an organization, you always have to deal with developments, and business continuity is, of course, very important. That's what we were looking for at Movenience. With the cloud, you have more certainty and are no longer dependent on servers. Genesys Cloud is, therefore, a perfect fit. We also immediately extended the continuity strategy to our business. We switched to Windows 10, moved to cloud-based email, and implemented signature software."
That freedom of choice – whether or not to use something – is ideal for responding well to the future and all developments.
Future of customer service
most important contact channel for Movenience. However, just like the developments outside, there are also necessary developments within the company. Peter says, "We are currently implementing chat on our website. This makes it even easier for customers to get in touch. Because the chat comes through Genesys Cloud, customers also receive faster answers to their questions."
He continues, "Previously, we didn't do much with reporting. With Genesys Cloud, it's easy and we're now looking at what we can do with it. Furthermore, the choice for WhatsApp Business is on the table, but this depends on the developments surrounding the Westerschelde tunnel at the moment."
Peter concludes, "I'm happy with Genesys Cloud for Movenience's customer service. You always have the latest version at your disposal and all the functionalities are actually included. This freedom of choice – whether we use something or not – is ideal for being able to respond well to the future and all developments."
About Movenience
Movenience is an innovative enterprise, specialized in mobility-related payment services. What kind of services are we talking about? These are services that make it easier for road users to pay for the Westerschelde Tunnel, Zeeland parking garages, charging electric vehicles, and for the crossing with the Westerschelde Ferry.